Tyropitari is a traditional meal of Evia Island. It is a kind of cheese pie. It is a fried pie, made in a pan, and it is fairly eazy and quick made. It can be served as an appetizer, or as a light meal.
Ingredients for 3 pies
1 kg thick rustic sheet cake
1 kg fresh soft cheese (ricotta or cream cheese)
7 eggs
4 tablespoons milk
olive oil for frying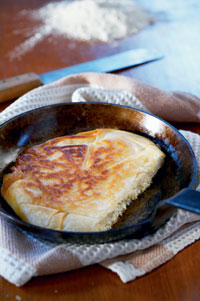 Directions
Whip the eggs lightly with milk. Grate the cheese by hand or with a fork and when melted mix with eggs. Take one sheet and spread it into the pan, which we smear lightly with olive oil. The sheet should far exceeds in size the perimeter of the pan. Spread some of the cheese mixture and eggs and fold inward the sheet to make the first tyropitari. Spread over the second sheet and turn it upside down the whole pie. Sprinkle the filling and seal the foil left over from pan. Repeat this process so that folding the third sheet to include the other two tyropitaria. We turn carefully with a spatula to cook the pie us from both sides. Similarly prepare the remaining tyropitaria. Pulling them from the pan, let them draw briefly on absorbent paper and serve hot.
Another recipe for tyropitari, with hand made pastry is the following:
Ingredients
1 kg flour for all uses
a bit of salt
water as needed
200 grams. feta cheese, crumbled.
oil for frying
Directions
To make the pastry/dough:
Mix in a bowl the flour with salt and add a little bit of water as needed to make the pastry in such a way that does not stick to hands.
For the tyropitari: Let the pastry aside covered for 30 minutes. Split it into pieces, and open them with a rolling pin into rectangular sheets 40-50 cm
Sprinkle each sheet with crumbled feta and slamming bringing the facing angles into the middle of the sheet, giving the pies circular shape.
Fry in hot oil on both sides until golden brown.
Leave them to drain on absorbent kitchen paper.
Bon appétit!!!
(Ps. I have to confess I am not so good in writting down the recipes. So if you want to try the tyropitari and you cannot understand how to make it, or you have any questions, ask me and I shall make my best to help you)